Carrier Sales is an access point that allows you to set a commission value for staff who assign carriers to loads – if only Carrier Sales is granted as staff access, the user's defaulted view when logged in is the Source Capacity Dashboard.
Limited to only seeing the Carrier list; cannot add new carriers to the system. Able to edit current carrier profiles.
No report builder access; must be granted under Reports in staff profile.
Can access the Documents and Tools menu options with limited functions.
To set this up, check off Carrier Sales and enter a value for the Commission Amount – be sure to also choose the commission type to base off how the commission is to be calculated on loads.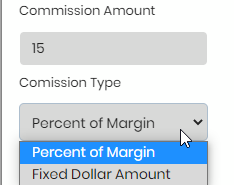 Once a carrier is selected via LCR, Source Capacity or the Add button on the shipment profile and billed/cost amounts are entered the commission amount will be calculated out on the load profile.
**Note – carriers sales are like customer sales: they can see their own commissioned amount, but cannot see anyone else commissioned to the load whether they are customer sales staff or carrier sales staff.