Carrier Groups is a way to help set custom categories to label your carrier profiles for filtering purposes. You can also use these Carrier Groups to help search for carriers labeled in the system on the Carrier List as well as the Carriers – Volume page.
To start a carrier group go to Carriers > Carrier Groups. Click Add New. Enter a Name and hit Create Group. Once created, you'll see a "Search for Carriers" box appear below.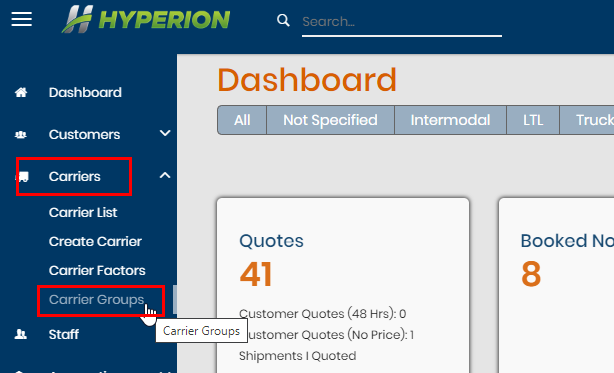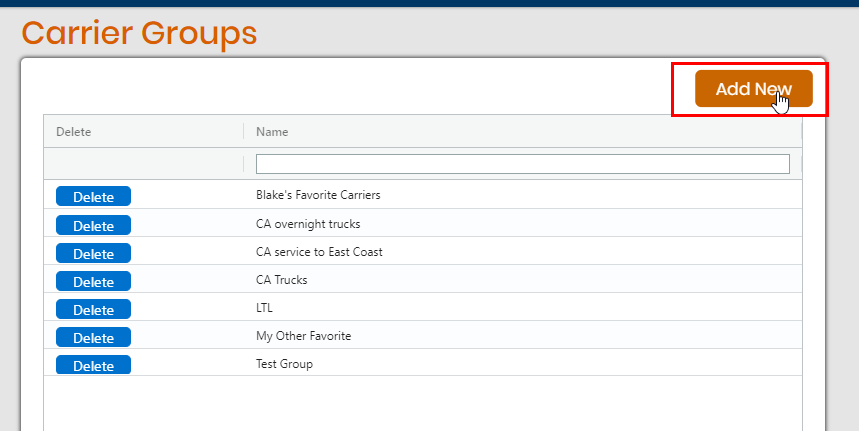 Use this section to search for existing carrier profiles in your system to add to this group. You can add as many carriers as you like to the carrier group.
You can also have multiple carrier groups indicated on a single carrier profile.

You can also add previously saved carrier groups from a carrier's profile itself. To do so, in the Groups box, hit Add. A pop up appears and you can then choose from the list. Select the one to add and hit Add Group. You can also see the other carrier groups added to the carrier profile in this same Groups section.

You can use Carrier Groups to search on the Carrier List section and also the Carrier – Volume page (from load profile or when creating a new load.) Using the Carrier Groups on the Volume page will allow you to select any or all carriers assigned to the group and choose them to be part of the Participating Carriers which will then allow you to email that group out for a volume quote (granted at least one contact on the carrier profile has Send Rate Request checked off).